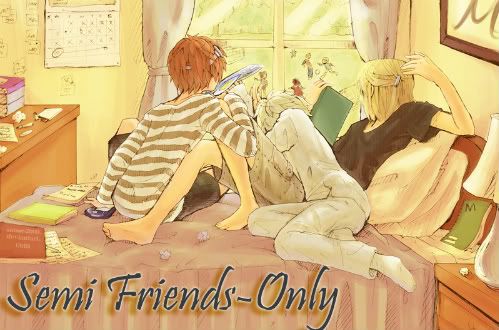 Tora here~ This journal has some friends-locked post, some not... most being of the locked variety though. In any case, please comment to this post to be considered for friend-adding. Thank you! ♥
So I'm going to
try
to update this sucker about once a week. I mean, I never keep a paper journal or anything and it seems like a nice idea because I can look back and be like oh cool I did blahblahblah that day.
(
stuffstuffstuff and complainfishing.
Collapse
)
This turned out longer than I meant it to. I really should go back to (poorly) memorizing my Japanese presentation. I'm getting rather of sick of Okinawa.
I need to start using this thing more. I keep meaning to write down stuff that happens because wheee memories! but then I get caught up in other stuff or I'm too freaking lazy (mostly that second one) and nothing happens.
Current Location:

Volcano Teahouse

Current Mood:

frustrated

Current Music:

Mumford & Sons
Current Mood:

artistic
icarus_suraki ! 8D


The BBC apparently believes most people will have only read 6 of the 100 books here: BOLD THE ONES YOU'VE READ!

1 Pride and Prejudice - Jane Austen
2 The Lord of the Rings - JRR Tolkien
3 Jane Eyre - Charlotte Bronte
4 Harry Potter series - JK Rowling
5 To Kill a Mockingbird - Harper Lee
6 The Bible
(Not all but I read some of it. Prooobably not enough to be highlighted, though.)

7 Wuthering Heights - Emily Bronte
8 Nineteen Eighty Four - George Orwell

9 His Dark Materials - Philip Pullman
10 Great Expectations - Charles Dicken
11 Little Women - Louisa M Alcott
12 Tess of the D'Urbervilles - Thomas Hardy
13 Catch 22 - Joseph Heller
14 Complete Works of Shakespeare
15 Rebecca - Daphne Du Maurier
16 The Hobbit - JRR Tolkien
17 Birdsong - Sebastian Faulk
18 Catcher in the Rye - JD Salinger
19 The Time Traveller's Wife - Audrey Niffenegger
20 Middlemarch - George Eliot
21 Gone With The Wind - Margaret Mitchell
22 The Great Gatsby - F Scott Fitzgerald
23 Bleak House - Charles Dickens
24 War and Peace - Leo Tolstoy
25 The Hitchhiker's Guide to the Galaxy - Douglas Adams
26 Brideshead Revisited - Evelyn Waugh
27 Crime and Punishment - Fyodor Dostoyevsky
28 Grapes of Wrath - John Steinbeck
29 Alice in Wonderland - Lewis Carroll
30 The Wind in the Willows - Kenneth Grahame
31 Anna Karenina - Leo Tolstoy
32 David Copperfield - Charles Dickens
33 Chronicles of Narnia - CS Lewis
34 Emma - Jane Austen
35 Persuasion - Jane Austen
36 The Lion, The Witch and The Wardrobe - CS Lewis
(uuh, see number 33. :| )

37 The Kite Runner - Khaled Hosseini
38 Captain Corelli's Mandolin - Louis De Bernieres
39 Memoirs of a Geisha - Arthur Golden
40 Winnie the Pooh - AA Milne
41 Animal Farm - George Orwell
42 The Da Vinci Code - Dan Brown
(Why is this on the list?)

43 One Hundred Years of Solitude - Gabriel Garcia Marquez
44 A Prayer for Owen Meaney - John Irving
45 The Woman in White - Wilkie Collins
46 Anne of Green Gables - LM Montgomery
47 Far From The Madding Crowd - Thomas Hardy.
48 The Handmaid's Tale - Margaret Atwood
49 Lord of the Flies - William Golding
50 Atonement - Ian McEwan
51 Life of Pi - Yann Martel
52 Dune - Frank Herbert
53 Cold Comfort Farm - Stella Gibbons
54 Sense and Sensibility - Jane Austen
55 A Suitable Boy - Vikram Seth
56 The Shadow of the Wind - Carlos Ruiz Zafon
57 A Tale Of Two Cities - Charles Dickens
58 Brave New World - Aldous Huxley
59 The Curious Incident of the Dog in the Night-time - Mark Haddon
60 Love In The Time Of Cholera - Gabriel Garcia Marquez
61 Of Mice and Men - John Steinbeck
62 Lolita - Vladimir Nabokov
63 The Secret History - Donna Tartt
64 The Lovely Bones - Alice Sebold
65 Count of Monte Cristo - Alexandre Dumas
66 On The Road - Jack Kerouac
67 Jude the Obscure - Thomas Hardy
68 Bridget Jones's Diary - Helen Fielding
69 Midnight's Children - Salman Rushdie
70 Moby Dick - Herman Melville
71 Oliver Twist - Charles Dickens
72 Dracula - Bram Stoker
73 The Secret Garden - Frances Hodgson Burnett
74 Notes From A Small Island - Bill Bryson
75 Ulysses - James Joyce
76 The Bell Jar - Sylvia Plath
77 Swallows and Amazons - Arthur Ransome
78 Germinal - Emile Zola
79 Vanity Fair - William Makepeace Thackeray
80 Possession - AS Byatt.
81 A Christmas Carol - Charles Dickens
82 Cloud Atlas - David Mitchell
83 The Color Purple - Alice Walker
84 The Remains of the Day - Kazuo Ishiguro
85 Madame Bovary - Gustave Flaubert
86 A Fine Balance - Rohinton Mistry
87 Charlotte's Web - EB White
88 The Five People You Meet In Heaven - Mitch Albom
89 Adventures of Sherlock Holmes - Sir Arthur Conan Doyle
90 The Faraway Tree Collection - Enid Blyton
91 Heart of Darkness - Joseph Conrad

92 The Little Prince - Antoine De Saint-Exupery
(One of my favorite books! Working on reading it in Japanese too XD)

93 The Wasp Factory - Iain Banks
94 Watership Down - Richard Adams
95 A Confederacy of Dunces - John Kennedy Toole
96 A Town Like Alice - Nevil Shute
97 The Three Musketeers - Alexandre Dumas

98 Hamlet - William Shakespeare
(But the complete works of Shakespeare was listed... anyway. ♥ Hamlet~)

99 Charlie and the Chocolate Factory - Roald Dahl
100 Les Miserables - Victor Hugo


Eeeh not as many as I probably should have read but still. Screw you, BBC. :|
Look, a meme I yoinked from
(
Giant cut of giant epicness!
Collapse
)
Oh, oh, and pleaaase if you have pictures, can you send them to me? :3? I did bring my camera but I didn't carry it around much because I was in costume and I had nowhere to put it (and I hate carrying bags in costume hnngh) so if you have pics of me/us/awesomeness, please please let me know! I can even send you a CD to put them on there or get them off Photobucket or something. Thanks sooo much! <3333
Took me long enough to get this up, huh? XD; I was just so exhausted and then I got distracted and stuff but... here it is! Looooong con was long and yet somehow too short at the same time. Overall though, I think this was my best AX to date! I had a blast, and thank you to all my wonderful, wonderful friends for making this con so amazing! I love you all~ ♥♥♥
(
Day 0
Collapse
)
(
Day 1
Collapse
)
(
Day 2
Collapse
)
(
Day 3
Collapse
)
(
Day 4
Collapse
)
Overall, I had a great time!! The venue was great, the people were great, and much fun was had~ Thank you sooooo much to Gina for driving, and all of my amazing and wonderful friends for cosplaying with me and stuff!!! <33333 I love you all! And I really missed those of you who couldn't make iiiiit! I'll see you at AX! /HUGS AND LOVE ♥
Fanime 2010 con report yaaay~~
So this weekend, I am determined to do the following:
-write at least 3-4 pages of my Paradise Lost paper; outline the rest
-outline and at least
start
on my Hamlet paper
-pack anything I need from my house for Fanime
-get
adulbae
a jacket for Izaya and my old Mello wig for Rhyme (is there anything else you need from me bb?)
-NOT RP
-fix up my Oz shoes
-try to sleep despite all that because I won't be doing any of that in the coming week
I HOPE I'M NOT FORGETTING ANYTHING B|
...I also really want to make more fruit tarts sob.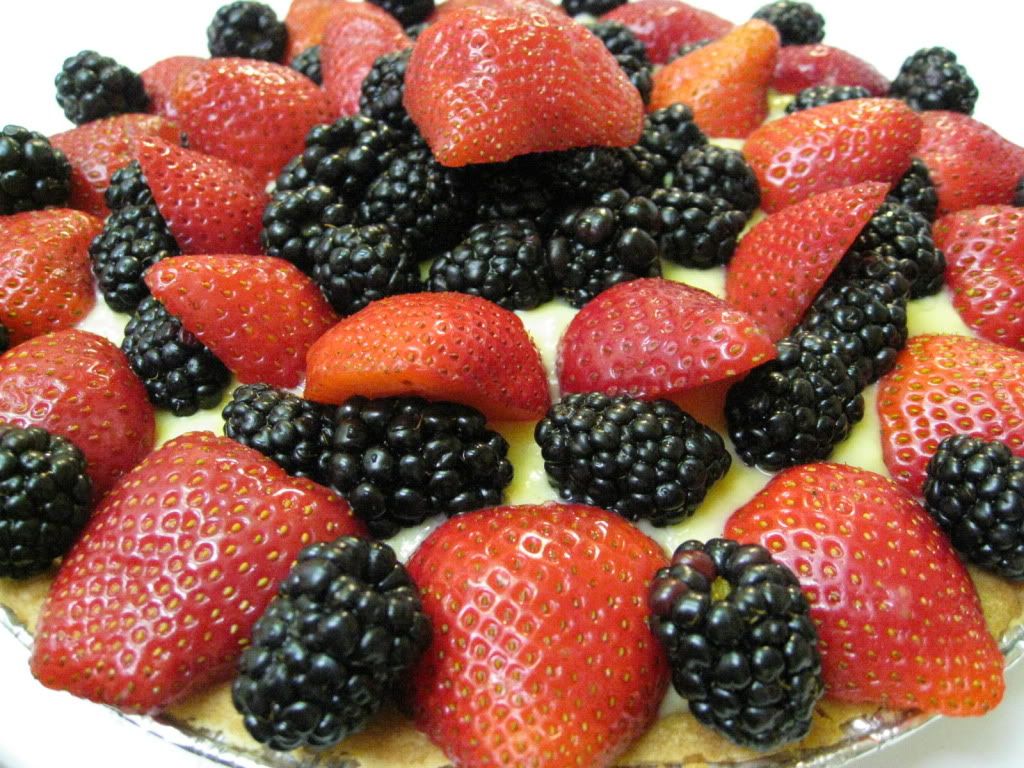 ...I have to write this stuff down so I feel responsible that someone is expecting me to do it, okay?
OMG I MADE A FRUIT TART!!
Well, I helped anyway. I melted the chocolate, stabbed the crust with a fork, cut the fruits and helped arrange them~~~
AND IT WAS DELICIOUS!
In other news, RPing Hamlet is surprisingly fun. I am very much a geek--not only do I RP, I now do so
in verse
. /facepalm
Ah, well~
/rains confetti on all her friends~~~
Current Mood:

bouncy
adulbae
signed a bunch of us up for
Always
, from the Robot Unicorn Attack Game and that was pretty fun. The music video is the most lolwtf-like thing ever. XD; And Alanna sang Tsubasa wa Pleasure Line in the most adorable way~ Oooother than that though, to be honest, I didn't really like it... The balance on the speakers was awful and most of the songs were way too loud to an almost painful level. So I paid no attention and helped my friend on an essay while I had amazing and wonderful fun with the
sheepocalypse
at Poly. So much fun~
After that, we went to dinner in the dorm area and played Harry Potter 20 questions. I am really beginning to like this Thursday tradition. ♥
Apparently, today there are plans to go to Westwood to shop for Durarara cosplay bits for a friend (and I need the glasses and bowtie still for Shizuo) and after that -- AAAAAH. Papers and projects and Fanime and aaaaah. Milton. 10 page paper that I barely even know what I'm writing on and I'm so not wanting to do it soooob. Also, I really wish we'd get our prompts in Shakespeare. The quarter's swiftly ending D: And this is the reason I'm not making any new costumes. Piecing together and modifying, sure, but not making. No way. Not after last year's week-long all-nighter and me getting sick after Fanime and just no. That said--
IS ANYBODY ELSE I KNOW GOING TO FANIME~? We should hang out! :D
Also, if you want me to bring anything I haven't listed in my last journal, pleaaase let me know like now. I'm only going home once before the con, next weekend, and then I'm flying straight to Fanime the Friday after that.
After my concert and yaaay I'm so excited and our music is awesome and James Conlon and yaaaay
Hey, hey, does anyone who isn't going to Fanime want to come to my choir concert Thursday, May 27th, 8pm at UCLA? :3 I thiiiink tickets are $10? They actually haven't told us but I could find out. We're singing Psalm 13 and 83 by Zemlinksy, and they have the most delicious dissonance XD I really love the music, even if the damn soprano line stays above the staff for most of it but. Oh well. It's no fun without a challenge~
In any case, music nerdiness aside, SCHOOL. I am drowning in it. Japanese is... getting a lot harder. Not even the speaking; I'm good at that. I'd love to just learn to speak forever and ever. But writing is slowly killing me and whoever invented kanji (or hanzi, I suppose) must've been something of a sadist. No offense to my Chinese friends but really? :| I hold the theory that I was simply born without the gene that allows one to learn such things. Apparently Bulgarian people don't have it. I'll just stick to my Latin and Cyrillic letters, thank you very much. Alphabets are love.
...in other news, I've been making icons and using Photoshop. Gasp. What's this? Yet another procrastination tool? Why, yes, I think so. Right in time for papers and soon-to-be finals. Way to go, self.
So. DOES ANYONE WANT ME TO COLOR/ICON MANGA SCANS FOR THEM? /shot.
So last night was yet another wonderful Thursday ignoring (and yet attending) animoo clubbu while I tagged to my nerdy little heart's content. It was karaoke night and I didn't actually sign up to sing 'cause I fail, though
Current Mood:

accomplished