Day 0:
This was my first con going to Day 0, which was probably why AX seemed so amazingly long. I drove out to
sani_caranza
's house in the morning, packed up my stuff in her parent's van, was fed delicious breakfast burritos, and then her parents drove us to the Westin Bonaventure, where we stayed the first night. (Many thanks to
kikyouluver
, by the way, for being so great and organizing all the hotel stays! ♥) It was really nice getting there when there were less people and Sani and I were the first to arrive, so we relaxed in the room for a little bit and then helped
Stef
and
konishii
with their luggage when they got there.
Day 0 was mostly for working on costumes since a lot of people had things to finish. I only had to make my bowtie and sew on some buttons, but that left me free to help out Sani on her Maka wig and Konishii on her Azula armor (both of which turned out wonderfully, you two~) so I still felt useful yay! In the evening, I took a stroll with Stef and Scott to go check out the hotel we were to be moving to the next day, the JW Marriott, and to get our badges. The line was
atrocious
. I heard later that people waited upwards of 4 hours! Thankfully, our amazing friends
itsuka
and
amandier
agreed to let us join them in line halfway through it so we didn't have to wait quite as long and finally emerged victorious with our badges! The rest of the evening was spent working on costumes, mostly out in the lobby and other places in the hotel because that single room in the Westin was home to
eleven
people that night lol. I think we were quite productive (though there wasn't much sleep to be had, but that's not really a surprise). I also met up briefly with a friend from college who was staffing at the peacebonding booth and that was nice~
Day 1:
We moved to the JW Marriott! Well, some stuff probably happened before that but I was asleep. Or trying to be. :| Anyway, we moved into--thankfully--
two
rooms of the JW Marriott and all was lovely. That hotel was amazing. The rooms were huge, the beds were comfy, we had a
couch
, and the staff were all very polite and friendly. I'm definitely trying to get us rooms there again. It was a very good hotel experience and it was practically across the street from the convention center! Best location we've stayed at AX to date.
After moving and SQUEE!ing over the room and it's hugeness for a while, I changed into Sailor Mercury to meet up with
gaarasyami
in her Neptune and Sani accompanied me in her amazing Maka cosplay. It actually took forever to meet up with Yami because we kept getting stopped for pictures--more than I thought we would be, actually. It was nice... and it was actually when I first started feeling I was at a con, since the previous day had been so hectic.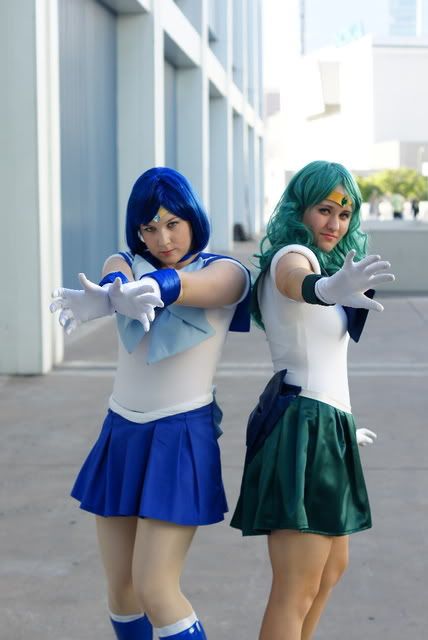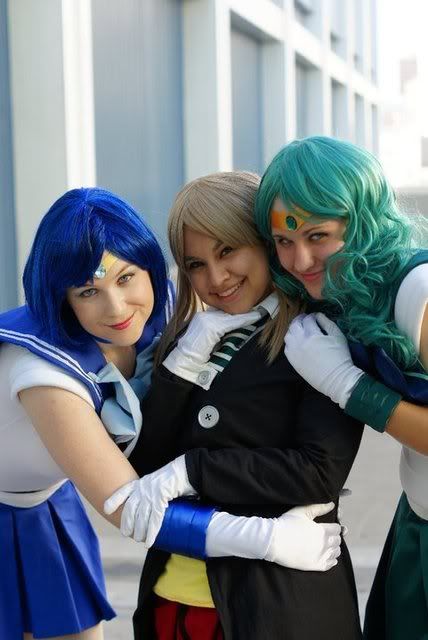 We met up, took some photos, hung out, all that jazz, and after a while I went back to the room to change into Death the Kid.
lyceeangel
joined Sani and me in her Patti and we wandered the (disturbingly empty after about 7pm) convention center for a bit just chilling. Later,
themarchingoboe
's wonderful boyfriend took us out to Taco Bell because the area was retarded and nothing (cheap) was open past like 10pm. And then we worked on stuff a while more because cons are also for last-minute cosplay finishing!
Day 2:
evanae
cosplayed Heiwajima Kasuka from Durarara!! and was amazing~ I joined her in the late morning/early afternoon as Shizuo and we took some pictures and wandered the Dealer's Hall a little bit. Her Kasuka was adorable~ X3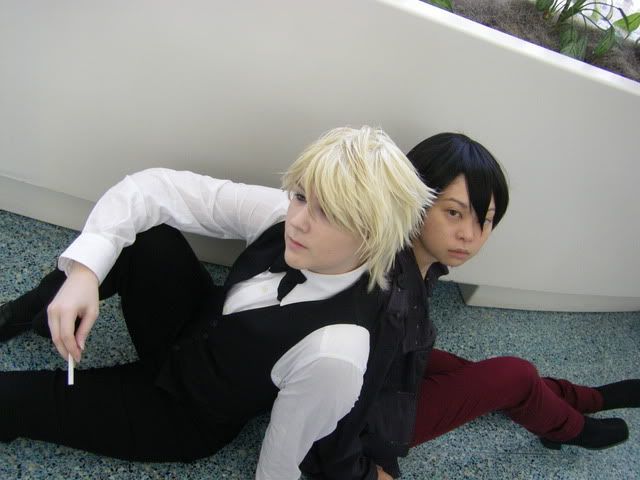 After that, I changed into Kid again for the Soul Eater gathering with Sani, Lycee, and
themarchingoboe
and, after being beset by scary fangirls and overly enthusiastic Kid cosplayers, I sort of opted out of the gathering and we all took pictures in the sidelines with some acquaintances.
About 4pm, I went back to the room to change into Zuko. Lycee taught me a new way to add texture to my scar with cotton balls, which took a lot less time than the wax and latex layering I'd been doing before, and it worked really well! I went back to the con center and met up with a friend of mine from online. She plays Merry at Polychromatic, and I was super excited to meet her! She's a sweetheart too, and lives in Carlsbad/Irvine depending on if school's in, so I hope to meet up with her more often~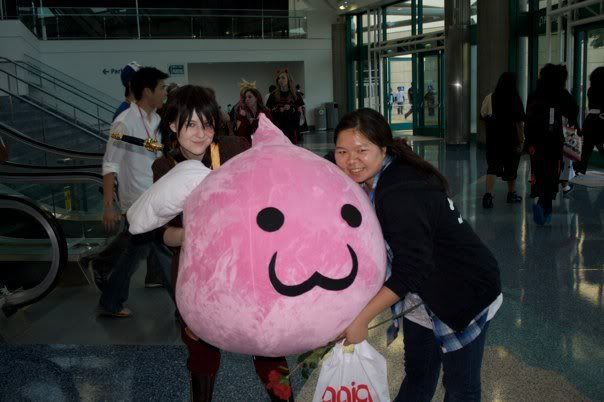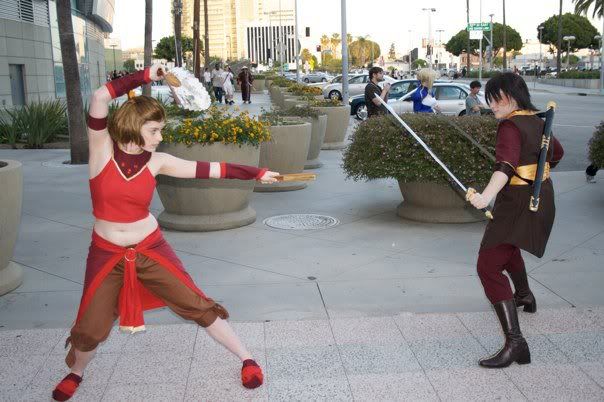 A bit later, Sani, Lycee, and Allison joined me in their Avatar cosplay too and we found Konishii, Stef, and
Erica
in their
amazing
Hetalia costumes! ...then we did battle. XD; By then, I'd been in binding FOREVER and I think my ribs were caving in, so I headed back to the room to unbind.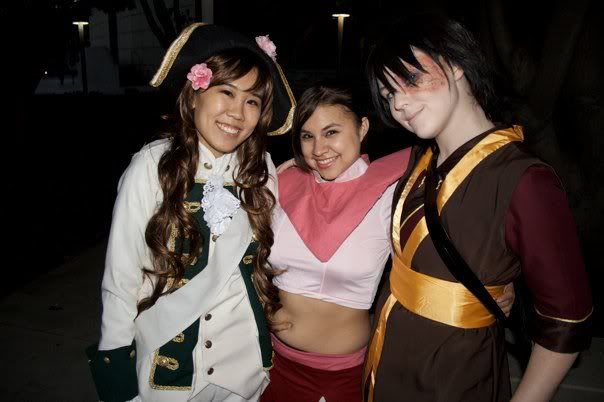 We all changed out of costume and, at 9:50pm, I went with Lycee, her brother, Allison, Drew, Itsuka and a bunch of others to watch
The Last Airbender
movie.
It was awful.
I'm not going to get into how awful it was because it would take up more than the con report to rant about it, but IT WAS AWFUL. DO NOT PAY MONEY TO SEE THAT CRAP. I would have enjoyed Eclipse more; that's how bad it was. Not only did it butcher the TV show, it was just the worst movie I've ever seen. The acting was terrible, the cinematography was bad, the pacing of the movie was dreadful, and even the special effects looked choppy and not at all up to what one would expect of a movie with the budget it got. And
they pronounced characters' names wrong.
That's right. They pronounced the names of established characters in an American TV show whose names are almost impossible to screw up
wrong
. Then they made up a bunch of crap about the world of Avatar which was also plain wrong. Anyway, long story short, don't see it. It sucks. A lot.
When we came back, we ranted forever about how awful it was, worked on costumes a little more and I helped Konishii finish her Azula armor, and then went to sleep.
Day 3:
Pandora Hearts day!! I only made one costume for AX this year since I was so limited on time between the end of school and the con, and this was it! Stef, Aya, and I debuted costumes from the Pandora Hearts artbook,
Odds and Ends
, while Lycee, Erica, and Itsuka joined us in canon PH cosplay. It was amazing. We were
mobbed
for pictures and then we asked the ever-amazing Sojian to do a little photoshoot of us.
The only drawback was that I wasn't able to make my Oz boots so I borrowed Lycee's... which were about a size or two too small for me and
really hurt
. I couldn't stand it by the end of the few hours we spent in the costume and ended up trudging back to the hotel in my socks. Still, I don't think I've ever been that happy and that in pain at the same time lol. I'm really, really pleased with my artbook!Oz outfit. :D And my group!! You guys all looked incredible! ♥♥♥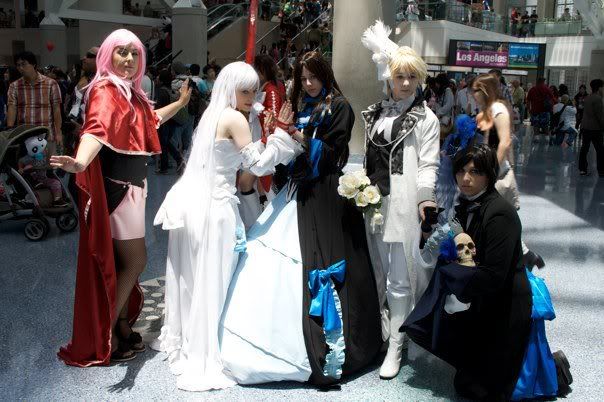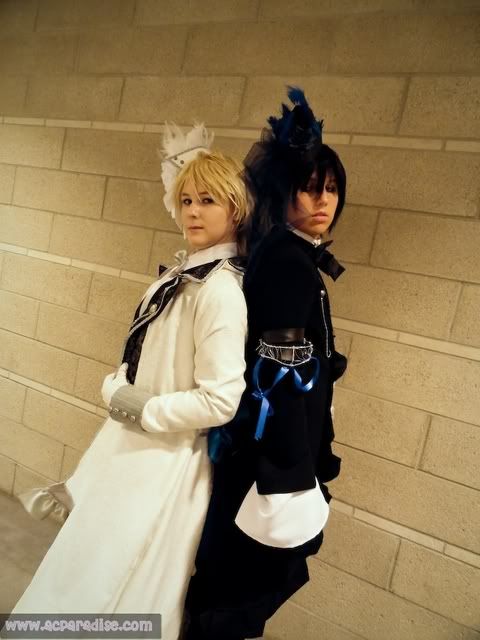 Once I hobbled back to our hotel, Lycee and I changed into Zuko and Suki, and Konishii joined us in her amazing debut Azula! We wandered around the con center a bit being awesome and getting pictures taken and ran into Chris the Amazing Sokka, whom we kidnapped to take pictures with us and Sojian. It was pretty epic~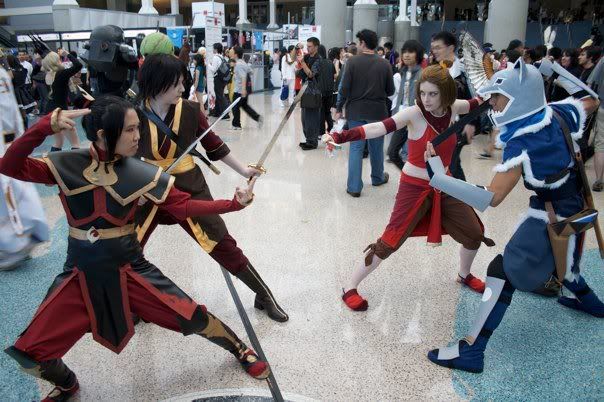 Later that night, we ordered pizza and wings (twice! lol) and had something of a party in the hotel with lots of awesome people. It was really fun~ Then we packed up a bit and stuff... sob. Up until then, the con had seemed super long but then suddenly it seemed really short lol. Go figure.
Day 4:
I didn't bother cosplaying but I wore my red lolita dress, then went to the dealer hall with Aya and Sani (in her random casual!Maka). There we split up, I hung out a bit with Scott and then Ryoko and Yami, my phone died, I bought some art, and then I met back up with Sani to go back to our hotel. Yeah, Day 4 wasn't too eventful. We basically just checked out and left, and then I spent some time at Sani's house. We ate dinner together and watched a bit of TV before I managed to drag myself off the couch and drive home. I was sore and exhausted but super pleased with AX for once. The organization was kind of annoying as usual, but the Marriott was great and I had a wonderful time with wonderful people. Thanks for being so amazing, everyone! ♥
Oh, oh, and pleaaase if you have pictures, can you send them to me? :3? I did bring my camera but I didn't carry it around much because I was in costume and I had nowhere to put it (and I hate carrying bags in costume hnngh) so if you have pics of me/us/awesomeness, please please let me know! I can even send you a CD to put them on there or get them off Photobucket or something. Thanks sooo much! <3333
Took me long enough to get this up, huh? XD; I was just so exhausted and then I got distracted and stuff but... here it is! Looooong con was long and yet somehow too short at the same time. Overall though, I think this was my best AX to date! I had a blast, and thank you to all my wonderful, wonderful friends for making this con so amazing! I love you all~ ♥♥♥